Montana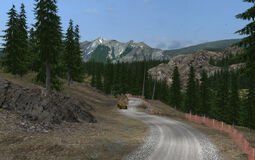 First Aparence: 18 Wheels of Steel Across America (Only Roads)
18 Wheels of Steel Extreme Trucker 2 (As Location)
Country: United States Of America
Fuel Stations: 3
Montana is one of two locations add on Extreme Trucker 2. There is wild home of the toughest loggers in the world. The Mountain roads here are steep, curvy, and often poorly maintained. In combination with heavy and oversize loads they sure are deadly. Sometimes, your path will lead your deep into the forests densely covering the surrounding slopes. keep your foot near the brake pedal then - you never know when you might need to use it.
Ranks of MontanaEdit
Extreme Trucker 2 Rank:
Service Guy
Trucker In Waiting
Lumberjack
Heavy Lifter
Iron Man
​
Citys on MontanaEdit
Aparence Extreme Trucker 2 Only:
​
List of Cargo of MontanaEdit
List is on Working!
Map of MontanaEdit
Montana and Bangladesh have only 1 road trains cargo
Montana is smallest and little location of Extreme Trucker 2
Ad blocker interference detected!
Wikia is a free-to-use site that makes money from advertising. We have a modified experience for viewers using ad blockers

Wikia is not accessible if you've made further modifications. Remove the custom ad blocker rule(s) and the page will load as expected.